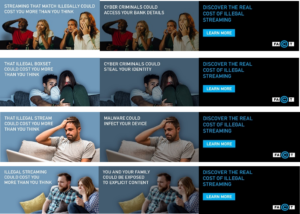 Illegal streaming or downloading are extremely risky activities, which can leave you and your family at the mercy of malware, viruses, ransomware, scams and fraud.
Did you know that…
Almost half (49%) of respondents who illegally stream in the UK say they or someone they know have been a victim of scams, ID theft, fraud or data loss as a result
And 41% have been exposed to inappropriate content
Streaming, downloading or sharing unauthorised TV content, film or sports content is a crime.
It's often claimed that illegally streaming is a 'grey area'. It's not. Anyone selling, distributing or allowing access to content without the permission of the copyright owner is committing a crime. But what you need to know is that anyone who is accessing content in this way is also committing a crime.
Don't be fooled, people who provide unauthorised TV content aren't Robin Hood characters providing free TV access for nothing. They are criminals, often with links to significant criminal organisations and activity. In fact, the money they make from people accessing their content is used to fund those crimes. That's why police forces across Europe are clamping down on piracy.
With online streaming in high demand, law enforcement agencies are increasing their focus on dismantling pirate content networks, disabling illegal streams, sending offenders to jail and contacting people accessing illegal streams or downloads with the threat of prosecution.
Share This Story, Choose Your Platform!