The COVID-19 crisis has changed the way we work, communicate, shop and spend our free time. With vast numbers of people around the world staying at home, life has driven us all online; enormously impacting businesses and customers in countless sectors.
FACT has been protecting the rights, content and interests of the film, television and sports rights sectors since 1983 and promotes the use of safe and legal services to watch movies, TV programmes and live sports. We are a leader in intellectual property protection.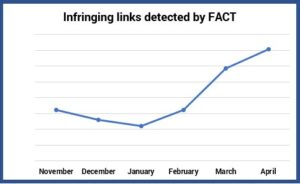 During what is being referred to as the 'new normal', online content consumption has increased significantly, inevitably leading to an increase in piracy, with the FACT scanning team removing more than double the volume of film links and illegal streams in April, compared to February.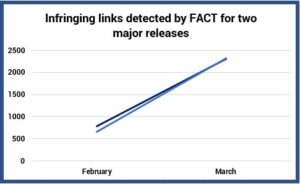 When considering films individually, two major recent releases saw a spike in links from February to March.
With cinemas closed; the way in which we watch new releases is changing. Historically, the only way to legally watch a theatrical release would be in cinemas; drawing a clear line between legitimate and illegitimate viewing. However, the recent release of Trolls World Tour straight to digital rental has allowed consumers to watch legally at home. Reports suggest that this method was financially viable, with Trolls World Tour generating more revenue during three weeks of digital release than its prequel did during five months in cinemas. While it's too early to comment on whether digital releases could continue to be commercially viable in the future; it is clear there continues to be a 'hidden cost' of making content available online: piracy. Every pirated link that we detect denies the rights holder of revenue to which they are entitled – crucial funds needed in order for films studios to remain in production of future releases, as explained by Jonathan Yunger of Millenium films.
Piracy is any rights holders' biggest competitor and with content consumption set to stay digital, it's never been more important to protect content. Whenever its release; we can protect it.
Ahead of a release date
The FACT scanning service offers early leak detection for new releases. Leaks detected by the FACT scanning team are analysed and reported promptly to trace the source and to remove links.
After a release date
FACT takedown notifications achieve over 90% compliance rate in content removal and we collate evidence on non-compliance to use in investigations against pirate websites and services.
Talk to us today to find out more about how we can help you and how we'll keep your content protected.
Share This Story, Choose Your Platform!