A Bovingdon market trader has been sentenced to 30 months imprisonment for selling fake DVDs and CDs, following a successful investigation by FACT and Hertfordshire County Council's Trading Standards Service.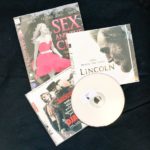 Andrew Thornton, 33, of Ibsen Walk, Corby, Northants, was sentenced at St Albans Crown Court on Tuesday 10 May for participating in a lucrative fraud, which involved the manufacture, distribution and sale of counterfeit DVDs and CDs from two stalls at the Bovingdon Saturday market.
During a three-year investigation up to June 2014, nearly 27,000 DVDs and CDs were seized by FACT and trading standards officers in numerous raids. The court estimated the cost to legitimate industries of the counterfeit products to be over £2 million.
Following one arrest in November 2013, Thornton refused to comment when asked if he was aware it was a criminal offence to sell counterfeit goods. He was released and the next day posted on Facebook, referencing the Leonardo Di Caprio film "Catch Me If You Can".
The judge, Her Honour Judge Marie Catterson, described this as noteworthy, telling Thornton, "it indicates your contemptuous attitude to the enforcement authorities and your total lack of remorse at that time."
In mitigation, Thornton said his wife was expecting their fifth child, whose birth he will now miss, and in recent months he had commenced a legitimate job.
Sentencing, the judge said that even without Thornton's previous convictions as an aggravating factor the charges amounted to "flagrant criminality" requiring a custodial sentence.
"I give credit for your recent legitimate employment, earning an honest living and doing well, which is a good sign for the future and will stand you in good stead, but this offending is far too serious to be dealt with in any other way that immediate custody," she told Thornton. She then sentenced Thornton to 30 months imprisonment, with half to be served in prison and half on licence.
Richard Thake, Cabinet Member for Community Safety, said: "This successful prosecution by Hertfordshire Trading Standards shows our commitment to fight against intellectual property crime and the sentence reflects the serious nature of the criminality involved.  The public would have otherwise purchased DVDs and CDs from honest businesses who suffer when sales are lost to criminals involved in the fraudulent manufacture, distribution and retail of these illegal goods. We will always consider, where appropriate, applying for the confiscation of assets from criminals involved in such activity"
Kieron Sharp, Director General of the Federation Against Copyright Theft (FACT) said: "Many people think copyright theft is a victimless crime and that buying a fake DVD or watching a film from a pirate site has no direct consequences. However, this could not be any further from the truth. Not only does piracy starve the creative industries and UK economy of millions of pounds a year, but it also impacts the livelihoods of thousands of people who support and work in the industry.
"We would like to thank Hertfordshire Trading Standards for their efforts in this extensive investigation and will continue to work with them to protect consumers and legitimate businesses from falling victim to intellectual property crime."
The Court will be considering a Confiscation Order in order to remove the gain obtained by Mr Thornton in a hearing for mention on the 12th August 2016 at St Albans Crown Court.
Share This Story, Choose Your Platform!