Adeel Arshad, 33 of Bordesley Heath in Birmingham was today (Friday, 19 February), sentenced to two years for copyright infringement, following a joint Police Intellectual Property Crime Unit (PIPCU) and Federation Against Copyright Theft (FACT) investigation.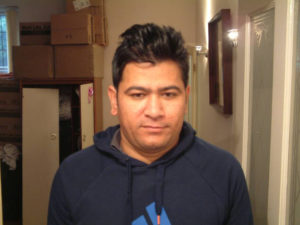 Arshad was sentenced in his absence at Southwark Crown Court after failing to attend a Birmingham police station to surrender his passport on 11 January. It is believed that he left the United Kingdom following his conviction on 8 January 2015. The judge also ordered the destruction of all the material Arshad used to carry out the offence including DVDs, computers and phones.
PIPCU officers from the City of London Police are now making international enquiries to establish Arshad's current whereabouts.
In September 2013, investigators from FACT identified that Arshad was selling counterfeit DVDs via an anonymous tip off to Crimestoppers from a member of the public.
The joint investigation then identified that Arshad, had set up a number of eBay accounts to sell over 2,000 mainstream counterfeit DVDs on the internet, including titles such as Game of Thrones, Boardwalk Empire, Criminal Minds and Breaking Bad. The total revenue from these accounts totalled approximately £100,000. The most expensive single item in his sales collection was season 10 of NCIS worth £69.
Officers executed a search warrant at Arshad's home address on 13 September 2013 during which he was arrested alongside another man.
Counterfeit DVDs worth in the region of £40,000 were located and seized at the address along with £350 in cash. A franking machine was also recovered which directly linked the fraudulent box sets to the address via the machine's unique serial number.
Arshad was subsequently charged. The second man arrested failed to return on police bail and enquiries to establish his whereabouts are currently ongoing.
Kieron Sharp, Director General of the Federation Against Copyright Theft said: "Arshad's counterfeit enterprise deceived hundreds of people and resulted in him pocketing thousands of pounds. His criminal actions also deprive the film industry of revenue, putting the livelihoods of those working in it at risk. It is only fair that he is brought to justice for his criminal actions and we will continue to support the Police Intellectual Property Crime Unit (PIPCU) in going forward with this investigation."
Detective Chief Inspector Peter Ratcliffe, head of the Police Intellectual Property Crime Unit (PIPCU), said: "Had it not been for the identification and swift intervention by the Police Intellectual Property Crime Unit and Federation Against Copyright Theft, many more unsuspecting customers would have been duped by Arshad into believing that the DVDs were genuine.
"Today's sentencing has gone ahead in Arshad's absence whilst we actively seek him. We have initiated proceedings to obtain an international arrest warrant and we are appealing to members of the public who may have information regarding his whereabouts to contact us. Arshad must be brought to justice for his conviction and accept the consequences for his criminal actions."
If you have information regarding Arshad's whereabouts please contact the City of London Police on 020 7601 2222 or if you wish to remain anonymous call Crimestoppers on 0800 555 111.
Share This Story, Choose Your Platform!