A Northamptonshire man has been given a two-year prison sentence for breaching trade mark laws after selling counterfeit DVDs he imported from China following a join investigation by the Federation Against Copyright Theft (FACT) and Northamptonshire County Council's Trading Standards.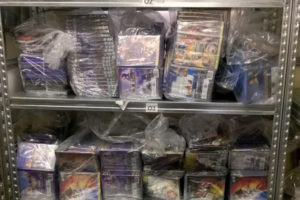 Keith Liggins, who lived in Milton Malsor at the time of the offences, sold £145,000 worth of imported DVDs through online auction site ebay, while another 512 DVDs were seized at his home worth a further £5,500.
Liggins, 62, who had already received three warnings from FACT (the Federation Against Copyright Theft), was convicted of eight offences under the Trade Marks Act at Corby Magistrates' Court on Friday October 9th.
On Thursday, Liggins was sentenced at Northampton Crown Court to two years' imprisonment.
Mr Recorder Rees QC said that due to the serious nature of the offences, only an immediate custodial sentence was warranted. He also imposed a confiscation order under the Proceeds of Crime Act, meaning Liggins must pay £66,032.
Kieron Sharp, Director General of FACT, said: "In the UK our creative industries support more than 1.8 million jobs, however criminal enterprises – like the one Liggins was running – put the livelihoods of those working in the industry at risk.
"At FACT we are committed to tackling criminals who profit from others' intellectual property. Working alongside our partners, such as Trading Standards, our work is vital in protecting the industry, the people who work in it and the films and TV programmes you love."
Cllr André Gonzalez de Savage, county council cabinet member for public protection, strategic infrastructure and economic growth, said: "This is a real deterrent for anyone thinking of selling counterfeit products and shows that we will take action against rogue traders.
"It may be tempting to buy counterfeit DVDs at a cheap price, but pirate films are often poor quality and, more importantly, cause serious damage to those working hard to earn a living within the film and TV industries.
"If you suspect someone may be selling counterfeit DVDs or other products, you can report it by phoning Crimestoppers anonymously on 0800 555 111 or the Citizens Advice Consumer Service on 03454 04 05 06."
Share This Story, Choose Your Platform!