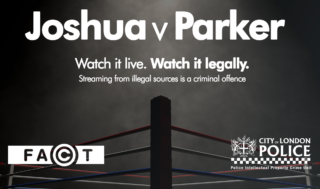 One of the UK's leading intellectual property (IP) protection organisations has joined forces with the national police unit which leads the response to tackling IP crime to warn users of the risks of illegal streaming ahead of Saturday's fight between Anthony Joshua and Joseph Parker.
FACT and the City of London's Police Intellectual Property Crime Unit (PIPCU) are advising boxing fans that dodging payment for the pay-to-view fight is breaking the law.
Consumers need to be aware that streaming without the right permissions or subscriptions is no longer a grey area. In April last year the EU Court of Justice ruled that not only was selling devices allowing access to copyrighted content illegal, but using one to stream TV, sports or films without an official subscription is also breaking the law.
The public should be aware that misusing their TV subscriptions has serious repercussions. For example, customers found to be illegally sharing paid-for content can have their subscription account terminated immediately and can expect to be prosecuted and fined.
Last year Yusuf Mohammed of Bristol was ordered to pay legal costs of over £16,000 and to disclose details about the money he made and people he colluded with for re-streaming Sky Sports content online illegally.  As well as the costs, Mr Mohammed had to pay Sky damages.  Another person was also ordered to pay substantial legal costs for sharing the Joshua vs Klitschko fight on Facebook.
CEO of FACT, Kieron Sharp said: "Whether it's a re-stream on social media, a piracy site, or using a device, box or stick connected to your TV, avoiding the official provider to access the fight is illegal. FACT is leading the way in combatting digital piracy and working with PIPCU and industry to crackdown on illegal streaming and to hold those behind them accountable for their actions. It is getting harder and harder to watch live sport illegally and so boxing fans should be aware that if they were planning to watch the fight this way they are breaking the law."
Detective Inspector Nick Court of the City of London Police's Intellectual Property Crime Unit said: "The Anthony Joshua fight is just one in numerous high profile sporting events each year, but don't let your eagerness to tune in make you commit a crime. By using illegal streaming sites you can open yourself up to several risks; some set-top boxes do not go through rigorous electrical testing and are therefore at risk of catching fire or giving electric shocks. By using legitimate providers these risks can easily be avoided. Watch it live, watch it legally."
Director of Copyright and Enforcement at the Intellectual Property Office (IPO), Ros Lynch, said: "We advise boxing fans who are planning on watching the fight to make sure they have the right licenses and access content legally to avoid any problems. It's great to see that FACT and PIPCU are working together to raise awareness of the importance of accessing content legally."
To find out how you can watch the fight safely and legally visit: http://www.skysports.com/boxing/news/35740/11282180/joshua-vs-parker-various-ways-to-watch-the-sky-sports-box-office-event
If you are not a Sky customer you can still enjoy the match safely and legally, find out more here: http://www.skysports.com/boxing/news/35740/11298809/joshua-vs-parker-how-to-watch-if-you-are-not-a-sky-tv-customer