2021 was another busy year for FACT's content protection team! From the first conviction of its type in the UK to a summer road trip serving cease and desist notices, we continue to protect content by disrupting illegal activity and holding those responsible to account. With separate convictions and sentences seen in 2021 for the use of unauthorised services, and great engagement with law enforcement, we're looking forward to continuing the fight against piracy in 2022.
Read on for our 2021 highlights:
Services halted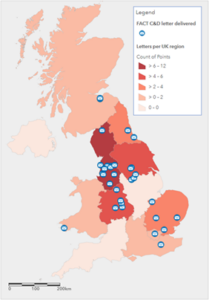 In August FACT investigators and police officers from Eastern Region Special Operations Unit, West Yorkshire Police and Dyfed-Powys Police visited addresses across the UK to serve Cease and Desist notices to individuals suspected of supplying illegal streaming services. The initiative is aimed at preventing the illegal supply of IPTV streams, with investigators visiting homes in Essex, Hertfordshire, West Yorkshire and Pembrokeshire to serve notices informing suspects to cease any illegal activity with immediate effect.
We have continued to send cease and desist notices to encourage individuals to put an end to their involvement in providing illegal services. The serving of these notices has resulted in the removal of hundreds of social media posts, pages, profiles, groups, websites and online marketplace listings. We will continue to monitor response and will escalate enforcement activity for persistent offenders.
Prosecution and confiscation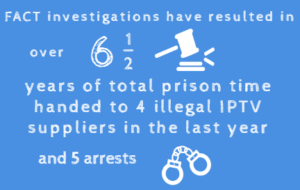 In April a serving Corporal in the Royal Air Force (RAF) who sold illegal services which provided access to premium sport, TV and films was sentenced to ten months' imprisonment, suspended for 18 months. He was convicted of conspiracy to defraud and loss of service property and also received a reduction to his rank.
In July a UK man who ran an operation offering illegal access to Premier League football was jailed for 16 months following a Premier League-brought private prosecution. The Judge recognised that Faulkner's use of the unauthorised service was a distinct crime in itself. This was reflected in him receiving a separate sentence of four months' imprisonment for using the service.
In July a West Mercia Police operation working closely with FACT resulted in the arrest of a man in Shrewsbury on suspicion of providing illegal access to premium television channels and other copyrighted material. During the warrant officers disrupted the online platform and seized equipment relating to the provision of illegal content.
In November a man who was selling IPTV devices on eBay was sentenced to two years' imprisonment, suspended for two years.
In November – in what is understood to be the first conviction of its type in the UK – a man who created and built a software package which enabled illegal access to BT Sport, SKY, Netflix and other subscription television content was sentenced to two and a half years' imprisonment. The software package or, 'build' Stephen Millington created was distributed to thousands of users, enabling them to access premium television and film content without payment, and causing potential losses to the legitimate broadcast industry of millions of pounds per year.
During the FACT-brought private prosecution, supported by BT, Greater Manchester Police and the North West Regional Organised Crime Unit, the Judge recognised that Millington's use of the unauthorised service was a distinct crime, which resulted in him receiving a separate sentence of twelve months' imprisonment for using the service.
Consumer attitudes research
In January, research commissioned by FACT showed that three in five people (62%) are unaware of the risks associated with piracy – fraud, identity theft and malware – or its links to criminal gangs. Once warned of the wider risks of piracy, 39% said they would now advise friends and family against it.
In September, to coincide with our consumer awareness campaign we commissioned new research which found that 47% of respondents had shared or would be willing to share their personal email address to gain access to illicit streams. One in three admitted that they had experienced fraud, been hacked or been exposed to online scams as a result of illegal streaming.
Consumer awareness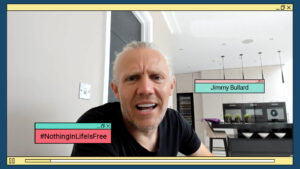 In September we launched the FACT-branded #NothingInLifeIsFree campaign featuring former Premier League footballer Jimmy Bullard and cyber-security expert Jamie Woodruff. In the video, Jamie explains to Jimmy the hidden risks associated with illegal streaming sites. In November the next stage of #NothingInLifeIsFree was launched, featuring German comedian Matze Knop and cyber-security expert Felix Friedrich. This German-language campaign followed the same format, with Felix explaining the risks of illegal streaming to Matze.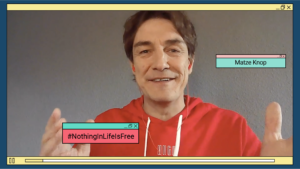 We worked with EFL to deliver anti-piracy messaging to supporters searching for content on Twitter.
"Capital's been told that people in Birmingham and the Black Country who are illegally streaming things like live football need to think about the damage they're doing."
FACT CEO Kieron Sharp spoke to Capital radio about the damage caused by illegal streaming.
"Sharp says his strategy is to continue to apply pressure and wear criminals down with "relentlessness" – and action against consumers of pirated content is on the cards too"
Kieron spoke to Tech Radar on the evolution of piracy.
We've continued to advise consumers on safe and legal viewing of sport and pay-per-view boxing
With in-house forensic, intelligence and investigation capabilities , we're ready to protect your content. Contact us today to find out more
Share This Story, Choose Your Platform!